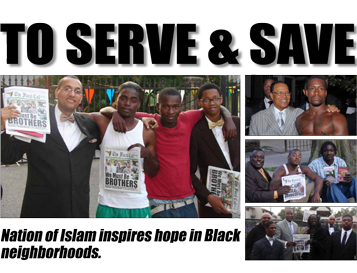 In the worst economically depressed and crime ridden areas, the Fruit of Islam (F.O.I.)—the men who belong to the Nation of Islam are being received as "saints, soldiers and saviors" to the young, the old, the male and the female alike.
"I think it was a good thing; y'all opened my eyes. Y'all got me wanting to come in and y'all came out in a nice number," said Ladarius Gaddis, a Benedict College student in Columbia S.C., after witnessing the Muslim brothers engaging community residents and distributing information in efforts to lessen tension and promote peace.
The historically Black college is a few minutes from the drug laden Gonzales Gardens Apartments visited by the F.O.I. for two successive weeks. Conditions are so bad in the complex, a 12-year resident who calls himself Stone "the Hebrew Israelite" portrayed life there as a "transit plantation" where crime and dysfunction are regular, but few people are stable and permanent.
» FULL STORY