When I picked up my copy of the May 30, 2012 Financial Times and saw the cover headline, 'Rockefellers and Rothschilds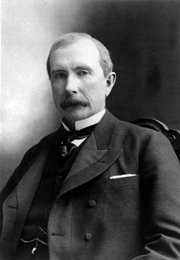 Unite,' that subject came to mind. As one who has pursued this subject since 1992, inspired after watching the Honorable Minister Louis Farrakhan's classic 'Shock of the Hour' tape while a college student, the relationship of these two families in particular to me, represents the area – along with a study of the Dupont family, the Vatican and Ancient Arabic Order of the Nobles of the Mystic Shrine – in light of the Teachings of the Honorable Elijah Muhammad, which explains the manner in which politics, science, commerce, religion, and education are used to both effectively govern and thoroughly deceive the masses. Without a grasp of the details of Rockefeller-Rothschild influence in academia, religion, science, business, art, culture and politics one simply cannot appreciate the ultimate benefit of the 5 percent, 10 percent and 85 percent Concept Authored by Master Fard Muhammad.
The extent of the Rothschild-Rockefeller relationship has been shrouded in ignorance, mystery, obfuscation and confusion displaying both the intellectual cowardice of esteemed academic researchers and biographers and the imbalanced ideology of those who conclude conspiracy without a presentation of actual facts and proper interpretations. Final Call...