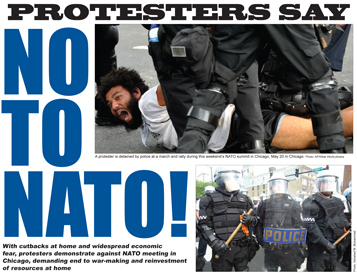 With cutbacks at home and widespread economic fear, protesters demonstrate against NATO meeting in Chicago, demanding end to war-making and reinvestment of resources at home
CHICAGO - Formed in 1949, the North Atlantic Treaty Organization (NATO) has acted as a worldwide security force consisting of 28 independent member countries.
Critics of the organization claim its noble sounding ideals of "establishing peace" and constant "humanitarian intervention" during times of conflict are really euphemisms for a strategy of Western powered and financed imperialist expansion.
Organizations covering a wide ideological spectrum representing a myriad of issues protested the NATO Summit May 20 and 21, decrying a behemoth military industrial complex that has grown with NATO's transformation into the world's police.
» FULL STORY