"Countering official Zionist historiography, Sand questions whether the Jewish People ever existed as a national grou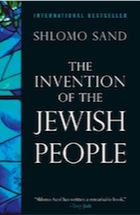 p with a common origin in the Land of Israel/Palestine. He concludes that the Jews should be seen as a religious community comprising a mishmash of individuals and groups that had converted to the ancient monotheistic religion but do not have any historical right to establish an independent Jewish state in the Holy Land. In short, the Jewish People, according to Sand, are not really a "people" in the sense of having a common ethnic origin and national heritage. They certainly do not have a political claim over the territory that today constitutes Israel and the occupied Palestinian territories, including Jerusalem."
— by Shlomo Sand
Also read:
Shlomo Sand: the man that Zionists love to hate | Books interview | Books | The Observer
"There are two kinds of Judaism: Christianity and a kind of Judaism that starts to close in on itself because of the success of Christianity." The hands drift apart. The fingers on the right withdraw into a fist. "The vision that we have of Judaism today came out of this closedness, because of fear; because of the conditions imposed on Judaism if it was to continue under Christianity."
Shlomo Sand: 'When and How Was the Jewish People Invented?'
No one is more surprised than Shlomo Sand that his latest academic work has spent 19 weeks on Israel's bestseller list — and that success has come to the history professor despite his book challenging Israel's biggest taboo.
Dr Shlomo Sand argues that the idea of a Jewish nation — whose need for a safe haven was originally used to justify the founding of the state of Israel — is a myth invented little more than a century ago.
Download this PDF:
Highlights & Key Points from The Secret Relationship Between Blacks and Jews